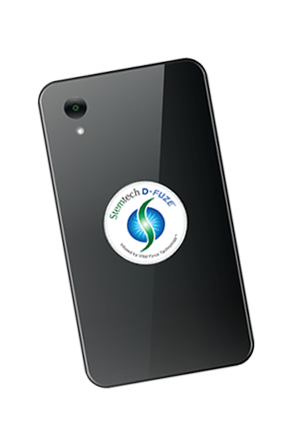 1. What is it made from?
D-FUZE is composed of polyurethane and is infused with the EMF protection pattern from Vital Force Technology.
2. Will I feel a difference?
Anecdotal reports indicate that people who developed oversensitivity to EMF radiation are now enjoying using their cell phones.
3. What impact does D-FUZE have on cell phone battery life?
None. It does not shorten or lengthen battery life.
4. How does D-FUZE work?
D-FUZE counteracts the impact of EMF radiation emitting from the cell phone.
5. How can I purchase D-FUZE?
Contact your Stemtech Independent Business Partner for more information
6. Is radiation a problem if I only use my cell phone for texting and emailing?
Research indicates that any use of your cell phone can create potential health problems.
7. How will D-FUZE tie in with Stem Cell Nutrition?
Stem Cell Nutrition protects us from the inside and now D-FUZE protects us from the outside onslaught of environmental toxins.
8. What else can I do to protect myself from the potential negative effects of EMFs?
Do not sleep near your cell phone. Leave it in another room overnight. Also, using a hands-free/speaker option or wireless headset will help protect you.
9. How long does D-FUZE last?
D-FUZE will provide protection as long as you own your cell phone.
10. Will D-FUZE cause dropped calls?
No, D-FUZE does not interfere with phone reception – it does not cause dropped calls.
11. Has D-FUZE been lab tested?
Yes. It has been SAR-tested, proven and certified by a government-sanctioned laboratory.
12. What is SAR?
Specific absorption rate (SAR) is a measure of the rate at which energy is absorbed by the human body when exposed to a radio frequency (RF) electromagnetic field.
13. Will D-FUZE work on all cell phones?
Yes, Stemtech's exclusive D-FUZE is an affordable, micro-thin disc that works on both new and older generation phones to "diffuse" the EMFs away from the body.
14. What are the instructions for using D-FUZE?
It couldn't be simpler. Just adhere D-FUZE instantly right on the back of your phone in the center using firm pressure. It works as well on your cell phone case as it does on the phone itself.
15. Should I be worried about cell phone radiation?
Electro Magnetic Frequency (EMFs) that radiate from your cell phone…and the cell phones of your children and grandchildren - could potentially have serious, long-term effects on health and safety. It has been widely reported in the media that EMFs produced by electronic devices may have adverse effects on human health and safety. Scientists, doctors and public health officials are concerned and so are consumers. Everything in the scientific literature is pointing to erring on the side of safety by taking action.
16. Why do I need D-FUZE™?
D-FUZE protects your body from potential harm by diffusing EMFs to lower the specific absorption rate (SAR) of this radiation.
17. What is the technology behind D-FUZE?
D-FUZE is the only cell phone filter infused with Vital Force Technology™.
Sign up for sales and PRODUCT NEWS!