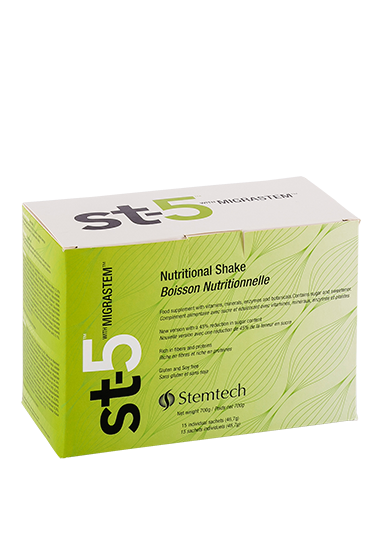 ST-5 ™ with MigraStem ™ provides a revolutionary way of achieving whole body wellness through a sophisticated and cutting edge nutrition formulation of inner potential and life-essential nutrients. † This exclusive nutritional multi-supplement contains 5 specialized blends including Powerful patent-pending MigraStem ™.
ST-5 ™ contains the powerful MigraStem ™, a synergistic blend of dense and select nutrients that has been documented to assist the body's natural renewal process to the deepest tissue. Loaded with more than 40 ingredients that fuel inner potential of the Body, including proteins, fiber, high potency vitamins and minerals, antioxidants, exotic superfoods, prebiotics and digestive enzymes, your body will thank you. ST-5 ™ with MigraStem ™ provides the balanced daily nutrition you need to maximize the inner potential of your body while creating a "feel good" sense of vitality and endurance.
Key Benefits
Optimizes the migration of your inner potential.
Supports sustained energy.†
Excellent source of protein: 15g and 35% Daily Value.
Supports healthy digestion with prebiotics and digestive enzymes.†
ST-5 WITH MIGRASTEM'S FAB5
FAB 5 BLENDS BENEFITS
1. MigraStem™ Whole Food Antioxidant: Patent-pending MigraStem maximizes the use of your body's inner potential.† It contains potent whole food antioxidants —including goji fruit extract, organic fucoidan, organic GanoUltra™ mushrooms, maca, and fractionated colostrum—, touting a host of health benefits widely known by Chinese herbalists.
2. Triple Source Plant-Based Protein: Triple source plant-based protein is 100% vegetarian and made with a combination of raw sprouted brown rice, pea and potato. It provides 15 grams and 35% of the daily value, making it an excellent source of protein. Plus, it delivers a complete amino acid profile, helps with appetite suppression, and is easy to digest.† Gluten free and non GMO.
3. High Potency Vitamins and Minerals: Contains 20 essential vitamins and minerals, providing 100% Daily Value of 16 key nutrients. Great liquid alternative to taking a multivitamin in capsule form.
4. Fiber and Prebiotics: Provides an excellent source of dietary fiber (10g) with 6.1 grams of soluble fiber. ST-5 with MigraStem's fiber and prebiotic blend supports a feeling of fullness, intestinal health, and immune health.† Contains Fibregum™ acacia gum, a proven prebiotic to help good bacteria thrive in the digestive tract.†
5. Digestive Enzymes: A full spectrum of active, plant-sourced enzymes to help break down fats, carbohydrates and protein, aiding nutrient absorption.
For more about st-5 with MigraStem visit the Product Facts.
A Perfect Partnership:


ST-5™ with Migrastem™, stemrelease3, and StemFlo®

ST-5 with Migrastem is an important part of the Inner potential of the body, supporting the natural release of bone marrow potential, while StemFlo supports the healthy circulation of the inner potential of your body. † ST-5 ™ with Migrastem ™ and StemFlo® are designed to offer you synergistically outstanding health and vitality.
†These statements have not been evaluated by the Food and Drug Administration.
These products are not intended to diagnose, treat, cure, or prevent any disease.
Sign up for sales and PRODUCT NEWS!